One of the common questions asked by recently married couple is "
should we combine our bank accounts or keep them separate ?
"
The quick answer is to have
combined accounts when you are newlywed
.
Later
down the marriage path, you may want to
keep them separates
. As jokingly as it may sound, you may eventually find it very truthful too.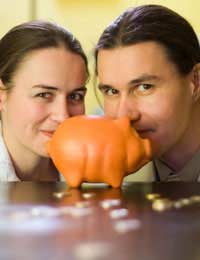 The longer or more philosophical answer is to keep some accounts private and some other accounts joint.
Your account is Yours,

My account is Mine,

Our account is Ours.
All 3 are DIFFERENT ENTITIES
, they are
NOT
suppose to get mix up. Suppose each person already has her own account before marriage. So yours is yours and mine is mine, there shouldn't be any confusion there to start with. After marriage, each individual just
add a new Automated Saving Stream
into the newly created joint account. Thats about it.